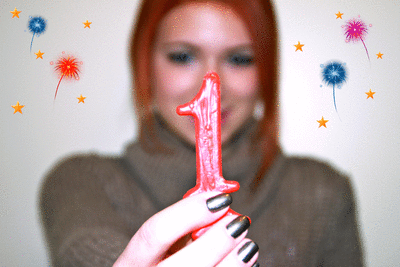 Aspettate un attimo...è passato già un anno??
Se ci ripenso mi sembra ieri quando pubblicavo il mio primo striminzito post e invece...quante cose sono cambiate da quel momento in poi!
Giusto un paio di cose sono rimaste le stesse: la mia incorreggibile mancanza di puntualità nel pubblicare i post ma soprattutto...il divertimento e la passione che metto nello scriverli!
Perdonatemi il post un pò melenso (cosa che solitamente detesto!) ma in questa occasione ci vuole proprio.
Per ringraziarvi di tutto il supporto che mi avete dato in questi mesi, dei commenti che ogni giorno lasciate e che rallegrano le mie giornate, e per tutti i suggerimenti, le idee e le critiche che giorno dopo giorno mi hanno aiutato a crescere e migliorare!
Se non fosse stato per quelle (poche) persone che hanno detto "vediamo un pò cos'ha da dire questa qua!" tutto ciò non sarebbe di certo arrivato fin qui e sarebbe finito tutto un bel pò di tempo fa!
Come vi avevo già anticipato domani partirà un bel giveaway per ringraziarvi di questo anno stupendo passato insieme e con l'occasione anche per farvi trovare un bel regalo in più sotto l'albero!
Ancora un grazie infinito e veramente di cuore a tutti voi e spero che continuerete a seguirmi con lo stesso affetto e lo stesso entusiasmo di adesso ;)
GRAZIE ♥
Wait a minute
...
a year
has
already
passed

??
If

I look back

it seems to me

yesterday when

I published

my first

skimpy

post

but

now...

how many

things have changed since

that moment

!
Just a

few things

have remained the same

: my

incorrigible

lack of

timeliness

in publishing the

posts but

above all...
the

fun and the passion

that I put

in writing them!
Forgive me for this

post

a little

silly

(

which I usually

hate

!) b

ut on this occasion it is a must.
To

thank you for

all the support

you have given me

in these months

, for all the comments

that

you leave
every day
and that

cheer

up

my days

,

and for

all the suggestions

, the ideas

and also the criticisms that

have helped me

every day

to grow up

and improve

!
If

it were not for

those (

few) people

who said '

Let's see

what this who-she-is has to say!"

this wouldn't
certainly
have
come this far
and would end
a whole
lot of time
ago!
As
I had
already anticipated
a nice
giveaway
will start tomorrow
to thank you for
this
wonderful
years
spent together
and at the same time to give you the opportunity
to
find
a
further
gift
under your Christmas tree
!



Again

thank you so much

truly

from my heart

and

I

hope

you will continue to

follow

my blog

with the same

affection and the same

enthusiasm as

now ;

)
THANK YOU ♥